Lambertville MI Pressure Washing
Lambertville MI Pressure Washing for Residential & Commercial
As one of the leading Lambertville MI Pressure Washing companies located on the Ohio-Michigan border, we empathize with the need for our professional exterior cleaning and Lambertville MI Pressure Washing and the surrounding areas of Northwest Ohio and Southeast Michigan.
It can be difficult to keep the outside of your home or business attractive, clean, and taken care of when it has to brave the harsh and hard winters in Ohio and Michigan. One great way to combat this is to have your home professionally pressure washed with our soft wash system. With our state-of-the-art equipment and techniques, our expert Lambertville MI Pressure Washing services will provide an instant increase in the value of your home or business. Not only do our pressure washing methods provide a beautiful tune-up for the place you call home, but it can help your property last longer by ridding your house of built-up residue that can cause deterioration, giving the outside your home a dull, run down look. To establish and lengthen the long-lasting and rejuvenated look for your home, it is strongly advised to have the exterior of your home pressure washed by professionals at least every 2 years.
What is Pressure Washing?
Pressure washing refers to the method of cleaning surfaces of residential and commercial properties with pressurized water. Often thrown around as a general term, it's typically unknown that there are two different kinds of pressure washing methods, distinguished by what surface is being cleaned. The two types of pressure washing are low pressure washing and high pressure washing. The difference, as suggested by their names, lies in how much pressure is being used.
Low Pressure Soft Washing
Low pressure washing, also commonly referred to as soft washing, uses pressure similar to the water pressure that comes from your every day, run-of-the-mill shower head. When paired with our specialized cleaning solution, low pressure washing, or soft washing, cleans many surfaces like built-up residue and dirt or other kinds tougher filth, like mold and algae. Since this kind of pressure washing uses a lighter pressure than that of high pressure washing, the cleaning solution does the bulk amount of the work here. This allows the lower pressure of the water to assist our eco-friendly cleaning solutions in getting your surface clean while preserving any paints or protective coating, ensuring the integrity and quality of your beautiful home.
Here are some common surfaces that the soft washing method of cleaning can be used on:
Windows
Vinyl siding
Roofs
Wood panels
Decks
Patios
Stucco
High pressure washing is another effective method of residential and commercial cleaning. At the heart of this method of cleaning, the water pressure used to clear your surfaces of dirt and grime is incredibly high and powerful. At such high pressures, this method can be dangerous if not handled correctly, with the potential to cut through some surfaces. That's why here, at Team H20 Spray, we take the correct measures to ensure that our Lambertville MI Pressure Washing experts know exactly what material is being washed for your home or commercial cleaning to determine the appropriate pressure to get the job done safely and correctly.
What Types of Surface Can We Clean with Pressure Washing?
One of the most important things to consider when figuring out what part of your home can be clean with pressure washing is the strength of the surface material. With such high amounts of pressure and water being used, we ensure that our client know exactly what surfaces can withstand that pressure safely. High-pressure washing was designed for mainly flat surfaces, typically made of concrete, such as:
Sidewalks
Walkways
Driveways
Brick walls (sometimes)
Parking Lots
Stone pathways
Most other concrete surfaces
Usually, these types of surfaces are in high traffic areas which leave lots of residue to become stubbornly ingrained in these areas, leaving them dull, dirty, and unappealing. With this help of our specialized cleaning solutions, our pressure washing methods can get rid of these spots and brighten up your driveway, sidewalk, or walkways in no time!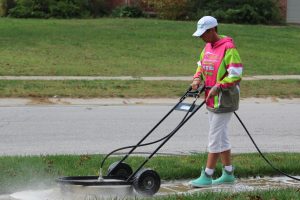 Benefits of Professional Lambertville MI Pressure Washing
Day-in and day-out, we leave our homes to go to work or school, walking past all of the dirt, grime, and residue living on the exterior areas of our homes and walkways. We don't always have the time or expertise to think about the ways in which dust, gunk, and filth has literally piled onto the outside of our lives. Making the decision to have a professional Lambertville MI Pressure Washing service performed for you and your family or you and your commercial front can benefit you beyond simply having a cleaner, brighter space.
One major benefit that comes from our professional pressure washing services is that we utilize high quality, professional grade, state of the art equipment to clean your residential or commercial property. This ensures that we not only are pressure washing your property to a clean, refreshed state, but we're cleaning your property with some of the best tools in the industry. Even if you have your own pressure washing equipment, it is likely not an up-to-date industry standard piece and probably won't give you the same results as a professional company would be able to get. As a leading Lambertville MI Pressure Washing company, producing amazing results for our clients is our number one goal with every cleaning job that we take on.
The benefits don't stop there! Not only does Team H20 Spray provide professional results with professional equipment, but when you invest in our professional Lambertville MI Pressure Washing services will also provide the benefits of:
Safety – Simply put, our team consists of a group of highly trained experts and professionals that you can confident know exactly how to handle the dangers of high-pressure water safely. It is our team's priority to protect you, your family, themselves and your property. We ensure that our experts are trained and knowledgeable to know how to test the correct and safe amount of pressure used to clean your property so that there are no incurred damages to your home.
Efficiency— Along with being incredibly safe, our services are doubly efficient in our time, our services, and our attention to water conservation. It can be tempting to think that pressure washing is an easy task and might be faster if you simply got the job done yourself. After all, you are intelligent, handy, and pretty dedicated to the do-it-yourself system of ideals. Though it isn't impossible to do the job yourself, it can be a headache having to figure out the correct equipment and cleaning products necessary to pressure wash your property. In addition, it can take even longer if you don't have the access to the professional-grade tools and equipment utilized by our team or knowledge of how to properly pressure wash. This could double or even triple the amount of time that it would take a professional Lambertville MI Pressure Washing company, like Team H20 Spray. On average, the pressure washing process can use around 8 gallons of water per minute – if this is handled incorrectly, it can result in wasted water and flood your yard, potentially damaging your plants and grass. Not only are we efficient in getting the job done right in a timely manner, but we also are efficient in our use of water and are careful to leave the beauty of yard your intact!
It can only benefit your peace of mind knowing that you hired a professional Lambertville MI Pressure Washing company to take on such an important and monumental task for you. If you need residential or commercial cleaning services, give us a call and let Team H20 Spray do the rest!
Why We're the Best Lambertville MI Pressure Washing Company
Here at Team H20 Spray, we are more than a team of expertly trained professionals in the Lambertville MI Pressure Washing and cleaning industries. We are individuals with homes, families, and businesses that bring joy and peace to our lives - because of this, we take pride in providing expert quick and safe pressure washing services to your driveways, sidewalks, and nearly any concrete surface that you need cleaned. We also offer soft washing services for more delicate surfaces, like your roof, windows, decks, or patios.
We have been providing Lambertville MI Pressure Washing services to the surrounding areas of Northwest Ohio and Southeast Michigan for thousands of satisfied customers, but it all begins with the love and care that we have for our own homes and families. Call us to give you and your family a fresh, clean start for your home today.