Renew Your Home with Toledo OH House Washing
Your house should be a place of comfort and give you all the good feelings every time you come home. You know that streak of black mold that you don't even notice walking by anymore or the 5 shades darker color from that original yellow paint you were so happy with? Those stubborn stains that you are used to seeing are doing more damage than you may realize. At Team H2O Spray, we know the importance of this – that's why we make it a priority to make cleaning and maintaining your home easy with our house washing service. After the first house washing, you'll be able to notice a drastic change in your home's appearance!
What's included in our Toledo OH House Washing Service?
With our professional Toledo OH House Washing, we can clean anything from the siding of your house, whether it's built of brick, vinyl, aluminum, or any other material. No matter what your siding material is, it's not immune to collecting dirt, grime, mold, and mildew. Taking action to get rid of these and maintaining a beautifully, clean home is easy with regularly scheduled house washing with Team H2O Spray. Team H2O Spray offers house washing in Toledo OH, Lambertville MI, Temperance MI, Sylvania OH, Perrysburg OH, and the surrounding areas.
Benefits of Team H2O Spray Toledo OH House Washing Service
There are 3 main benefits to having house washing service performed on your home:
Increase your home's curb appeal

Prolong having to replace the siding of your house

Get your home to be healthier
By removing all of the mold, mildew, algae, dirt, and grime from the siding, the 3 benefits would be accomplished. With the gentle pressure washing process we have for Toledo OH House Washing, we're able to work with any size home and just about any amount of dirt. Whether you've never had a house wash over the last two decades, you've forgotten what your house used to look like, or you had your last service performed 2 years ago, we have a solution for you.
Making your home look new again and cleaner than you can remember is very easy when you let Team H2O Spray take the lead with our three-step professional process.
Yes, you can try cleaning the siding on your own, spraying it down with the garden hose or similar residential-grade pressure washer, but without the proper detergents, water pressure, and temperature, it won't kill the mold and mildew. When done unprofessionally, the siding will attract these disgusting elements again, sooner than you know.
Not only do you better the environment for your family by removing the mold/mildew, but you're also helping your wallet by preventing damage to the home. That means house washing can help you avoid problems that require expensive repairs if you maintain regularly scheduled house washings.
Make House Washing Part of Your Maintenance Routine
Of course, with a single wash you'll be able to see immediate results. Unfortunately, not even we can claim a magic solution in which you'd never see dirt on your house again. Our professional recommendation is to get your house routinely washed, at minimum, every two years to prevent the house from establishing that same layer of mold and dirt that you're wanting to get rid of.
Remember, regular house washing also helps prevent further damage to the material on your house and helps you avoid home repair bills that are preventable.
How We Perform Toledo OH House Washing
There are 3 general steps we take to perform the best Toledo OH House Washing:
Applying detergent – This first step involved using our proprietary ultra-performing detergent. Since it's our own creation, we know exactly what goes into the detergent – what we use is designed to be seriously effective in cleaning, yet gentle enough to not damage any type of material we would apply it on. This first step is very important and gets the house washing process rolling to really tackle the dirt and grime that may have accumulated over years on the siding of your home.
Use gentle pressure to wash away dirt – The second step of our house washing service is to apply gentle water pressure to work with the detergent to remove any unsightly dirt or debris from the siding. Detergent and the right pressure of water will work wonders on getting your home looking excellent in no time. With our professional knowledge, we always use the right pressure in regards to the material of the siding on your house. Choosing the right pressure is important because using too little pressure won't get the work done and too much pressure can damage the siding (which will end up costing a lot more to repair!). It's always best to let a professional house washing professional tackle this task for you.
Rinse with cold water – Lastly, once the dirt is loosened with the detergent and low-pressure wash, we soft rinse the siding. Soft rinsing is different than the pressure washing mentioned in step 2. Soft rinsing does not blast away the grime as pressure washing does, it simply cleans off any residue that remains. This last step ensures your home is clean and looks as good as possible.
TEAM H2O Toledo OH House Washing Service Difference
Our team of professionals completely understand the importance and value of your home. Our expertise allows us to properly care for your house when it comes to professional house washing. We use our years of experience and specially designed three-step process to achieve the best results possible. Our clients are guaranteed satisfaction with our service because we absolutely believe in our Toledo OH House Washing team of professionals.
Our professionalism doesn't begin with the service, it begins as soon as you reach out to us for a quote. Excellent customer service is as important to us as our expertise, experience, and equipment for the services that we offer. Your home will certainly be in the safest of hands with Team H2O Spray and every little detail will be taken care of as we work together to complete the full power washing process for your home.
Want a clean home now? Don't wait to get in touch with us! We will work with you to figure out the best time and service to meet your schedule and budget.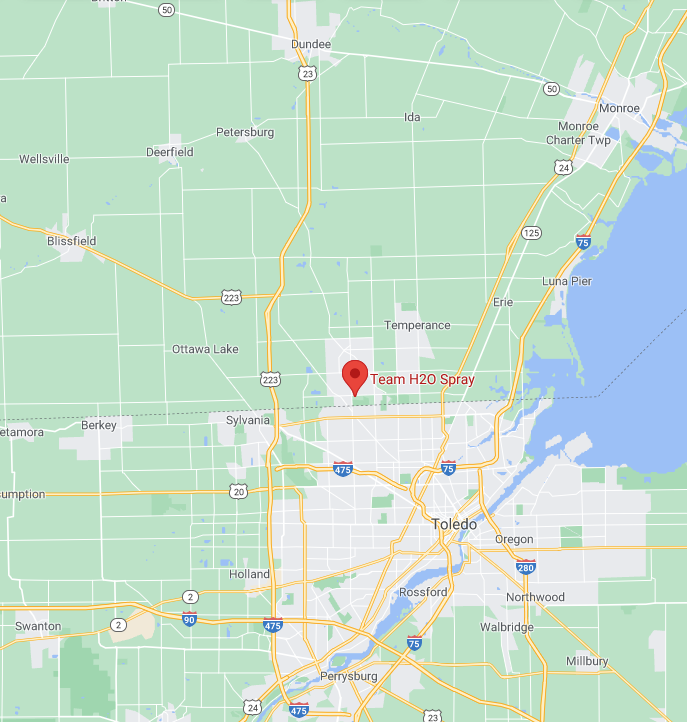 Team H2O Spray services Toledo OH, Lambertville MI, Temperance MI, Sylvania OH, Perrysburg OH, Holland OH, Maumee OH, Rossford OH, Monclova OH, Waterville OH, Whitehouse OH, Oregon OH, Ottawa Hills OH, Ottawa Lake MI, Monroe MI, Erie MI, Dundee MI, Luna Pier MI, Point Place OH, Northwood OH, and More Places Near You!