Rossford OH Concrete Cleaning
Do You Need a Toledo Concrete Cleaning Professional?
All exterior parts of your home add to your property's curb appeal, including your driveway, walkway, other hardscape and even the sidewalk in front of your house. In fact, the concrete parts of your property are probably the first things you would come into contact with when you arrive at home. Concrete most likely dominates your property.
Driveways and walkways are high traffic areas, thus resulting in faster loss of quality. With a lot of open access to people and animals dragging dirt from elsewhere and being exposed to nature's elements, concrete is one of the areas of your home that need to be looked after regularly. Without proper care, the damage to these concrete surfaces may look like ugly cracks in the sidewalk; oil and grease staining your driveway; dirt and gum lodged into the sidewalk crevice; and weeds growing through the broken concrete surfaces.
If left uncared for, the concrete areas of your home will take away from the beauty of your property. One of the top recommended methods of properly caring for these areas is to have regularly scheduled concrete cleaning. Our professional service for concrete cleaning in Toledo can help you get this figured out.
If you can answer yes to any of these questions, it would be beneficial for you to call Team H2O Spray to get started on cleaning your concrete:
Does your concrete surface look aged and ugly?
Is your driveway crusted with grease, car fluid and tire marks?
Is mold, algae and/or weed growing between the cracks?
Are there areas that are slippery?
Whether it's a "yeah, sure" or a resounding "yes!", professional Toledo concrete cleaning with our team will happily help you confirm the assessment.
Professional Toledo Concrete Cleaning for Your Home
One way of getting your home to look better is to replace the concrete in the driveway or sidewalk. A brand-new driveway without all the grease and oil stains would be such a sight to see; however, that does come with a pretty hefty price tag. Years of not caring for the concrete on your property will eventually lead to the need to replace these areas, but there's a way to push that back years.
A much more cost-efficient way of bringing curb appeal back to your home is to have a professional Toledo concrete cleaning team come out to clean your home properly every year. It will take a professional team and proper equipment to efficiently clean the concrete on your property. Professionals have a pressure cleaning system with commercial grade detergents that work better than anything you would find at the store. When used together, it completely removes unwanted stains from dirt to sticky gum residue and grease or oil that's penetrated the concrete surface.
When Team H2O Spray performs concrete cleaning in Toledo, our #1 goal is curb appeal. One of the best ways to elevate your property's curb appeal is with professional concrete cleaning using proper pressure washing methods.
Benefits of Using Our Toledo Concrete Cleaning Service
By hiring a professional team to perform concrete cleaning in Toledo, the property will have its value increased if you're ever looking to sell your home. Cleaner sidewalks, walkways and driveway increase your home's curb appeal greatly. Not only will you have a nicer home to look at, maintaining clean areas of concrete will help prolong its lifespan. You'll avoid the issue of mold, mildew and other growths causing deterioration of the concrete – as strong as concrete may appear, it's not spared from breaking down. The bonus benefit alongside a better-looking property is increasing the lifetime of your driveway, sidewalk, walkway and other concrete surfaces.
Having a professional Toledo Concrete cleaning team perform the work will allow you to get superior results without straining yourself with the actual cleaning and scrubbing required. Hire Team H2O Spray to get the job done right the first time around. We'll make sure you're 100% satisfied with our job of getting your concrete clean.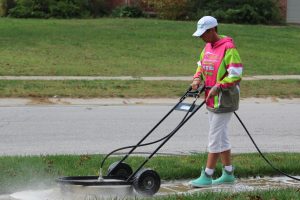 How Team H2O Spray Performs Concrete Cleaning in Toledo
Our process begins with having one of our professional team members come out to assess your home to see what would be required of us to get this job done right the first time. When you've decided that you want to work with Team H2O Spray, the best Toledo concrete cleaning company, we'll roll out our refined process to give you the results you want.
With years of experience, we've refined our methods for the best results. Our process looks like this:
Apply our specialized concrete cleaner to surfaces to be cleaned
Use our professional-grade equipment to work with the cleaning solution and remove dirt, mold, tire marks, stains and other forms of residue from the entire surface area
It's a simple, 2-step process but using the right cleaning agent and equipment is key to having real results that last longer.
The Team H2O Spray Difference
Team H2O Spray is a local, family owned and operated business that specializes in pressure cleaning services for both residence and commercial, including Toledo concrete cleaning service.  We put excellent customer service at the forefront of our business, alongside high-quality work with every single job that we're called to do.
We stand 100% behind our quality of work and don't consider the job complete until you are satisfied. When you choose Team H2O Spray, you're choosing to work with the most current, advanced technology/equipment in the industry, years of expert service and environmental responsibility. Our pressure washing methods are safe to use on your homes, in your yard and around plants and pets.
We provide service to customers in Toledo and surrounding areas. If you're unsure if we cover your area, please don't hesitate to reach out to us to find out. We provide free estimates with no obligation to you. We look forward to assisting you with all of your cleaning requirements.